We've been looking at different methods, tools and techniques for hexagon quilts lately. Over the weekend I spent some time with Precut Hexies in Kona Cotton Solids from Robert Kaufman.
I had Precut Hexies samples in each of Kaufman's signature Kona palettes.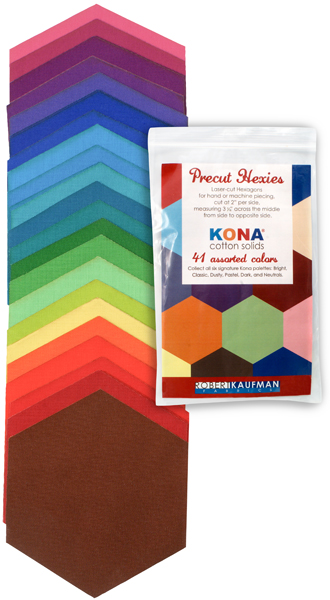 This one is called Classic.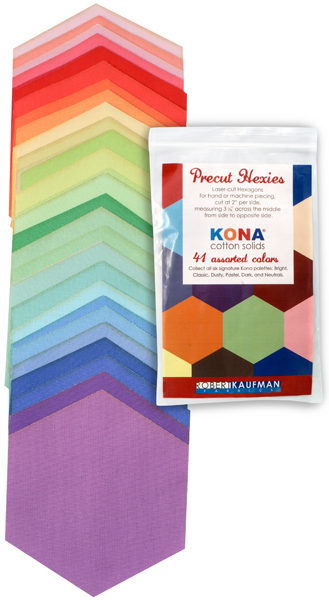 We have the Bright palette.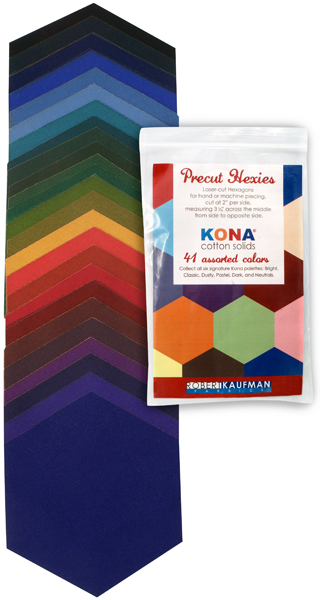 And the Dark one.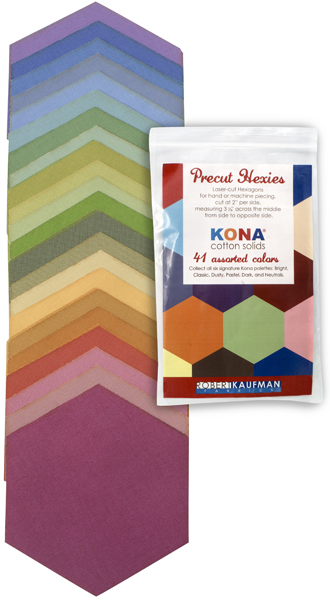 They called this one the Dusty Palette.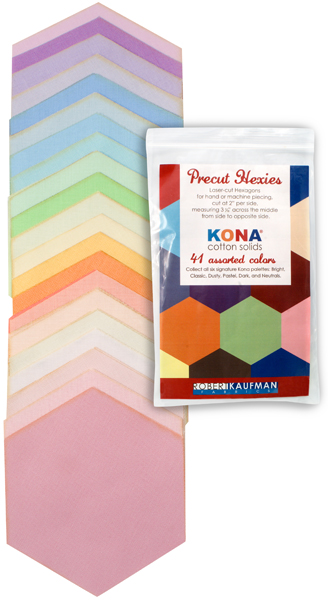 And these are the Pastels.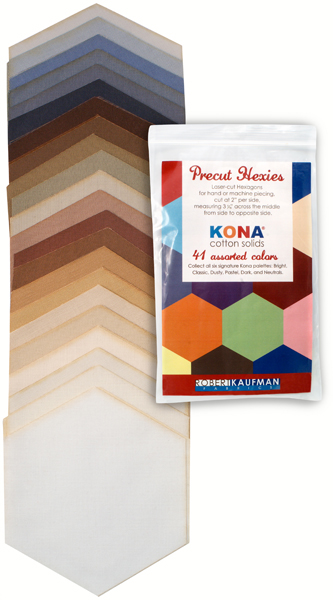 Last but not least are Kona's Neutrals.
I did my test sewing with the Classics. I wanted to join these hexagons on the machine.
I know how to do this in theory. I marked this hexagon so you could see what I mean.
You have to start and stop sewing exactly on the marked end points, and then with the needle down, you pivot and sew the next seam. Each seam is like a set-in seam.
In order to find the points, mark lines 1/4″ from the edges as shown. The place where the lines intersect is one point. I had a template from another project with a tiny hole at this point, so I used it to mark the points.
The first seam is a breeze because you just need to start and stop precisely.
The next one is more tricky because you stop on the mark, pivot, adjust the fabric and continue sewing. (No photo, I was using both hands and the knee lift and there was nothing left to hold a camera!)
I sewed a few hexagons together and then I changed a few things: I switched from a general purpose foot to an open-toe embroidery foot. You have to be able to place the needle exactly where you want it, and for that you need visibility.
I shortened the stitch length from my usual 2.0mm for piecing to 1.8mm. When the stitches are shorter, it's easier to end a line of stitching at precisely the correct point.
I switched to a lighter-weight thread. My usual piecing thread was taking up space in the fold and giving me grief. Things went more smoothly with the lighter-weight thread.
Instead of backstitching to secure the ends of each seam, I started and stopped sewing on the dot and shortened the stitch length to zero. By taking a few stitches in place at each end, I locked the seam in but didn't add bulk.
I learned that one thing you can't recover from is sewing past the dot. You really need to stop right on the mark. To the right is my worst corner so far.
And here is my best corner so far.
I'm learning when to take them out and how to make them better. I'm improving a little at a time.
The last few corners in oranges don't look too bad!
Each package of Robert Kaufman Kona Cotton Precut Hexies has 41 assorted colors for a total of .41 yards. The sides are 2″ and it's 4″ from point to point. The measurement from side to side is 3 7/16″. Prices vary by retailer.