As part of its celebration of National Quilting Day, the International Quilt Study Center & Museum in Lincoln, Nebraska recently invited Quiltmaker to give a trunk show. I live within easy driving distance of the museum so I was delighted to be there on Saturday, March 17 for a day of festivities and fun coordinated by the Lincoln Quilters Guild.
I've been to the museum a few times, but each new visit leaves me breathless. Saturday was no exception. There was a small exhibit entitled "Quilts of the Homesteading Era." I especially loved the Thousand Pyramids quilt below.
"What's In a Name?" was another exhibit that really tugged at my heartstrings. These quilts were so personal. It was like reading someone's diary. Below is a quilt that made me cry.
I'll post more on this quilt another time.
The exhibit of quilts by Jean Ray Laury was an interesting look at a piece of women's history.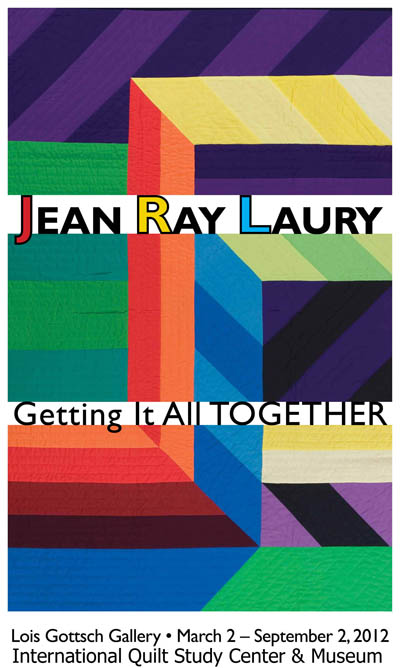 She wrote a book called The Creative Woman's Getting It All Together at Home Handbook in 1977 and said this: "There is a lot of sifting and stirring going on in kitchens today and not all of it goes into the muffins." I love that! Below are some of Laury's pieces I enjoyed.
It's quite a feeling to stand inches from quilts made by the hands of iconic figures like Jean Ray Laury. I recommend it!
More well-known quilt artists were represented in the exhibit titled "A Tribute to Ardis James." James collected quilts with her husband Robert, and their collection became the founding donation that sparked the establishment of the International Quilt Study Center at the University of Nebraska-Lincoln in 1997.
After James's death in 2011, 17 artists donated 26 studio art quilts to the IQSCM in her honor. A selection of quilts from this personal tribute comprises this exhibit in celebration of James's life and her generous and affirming spirit.
Just when you think you've seen all there is to see at IQSCM—you find you have not. On third floor was an intriguing little exhibit of quilts by Joan White. Its title is "Second Time Around: Quilts Re-made by Joan White." The sixteen small quilts were made from "found" textiles and unfinished blocks and quilts, as well as portions of finished work. I loved the chunky butterflies above.
There was more to see of course, but we'll save some for another post. You can see more of each exhibit online. If you ever have a chance to visit this world-class facility in Lincoln, Nebraska, it is well worth the trip. Until you're able to visit, be sure to visit the website at quiltstudy.org, where nearly 3000 quilts and their images are catalogued in an online searchable database. You won't be disappointed.