I love it when the UPS truck drives in to my yard. The driver usually has something quilty to deliver. Not long ago it was boxes of books and fabric and it felt like Christmas. Now it's product review and giveaway day so please read on.
*     *     *     *     *
Nature's Beauty in Applique is a new release from Martingale & Co. Author Susan Taylor Propst adds applique to a variety of projects including cases, bags, placemats and pillows. Seven-plus pages of applique instructions make these projects the perfect way to take applique for a test drive. I think you'll enjoy this title.
*     *     *     *     *
Carol Van Zandt is an artist and surface pattern designer with a new fabric line for Andover Fabrics called Tokyo Rococo.
Carol recently sent me bundles of fat quarters in two colorways and today I'll share them with Quilty Pleasures readers in a giveaway.
You'll want to check out Carol's blog for great inspiration. There is beautiful photography (like the photo above). There are long lists of design blogs, color blogs, DIY blogs, fabric blogs and more—so much interesting material you could get lost!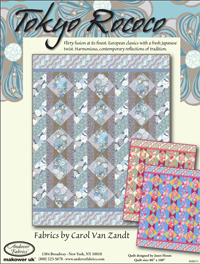 While you're there, check out the free quilt pattern for use with Tokyo Rococo.
*     *     *     *     *
Author Mary Kerr has released A Quilted Memory: Ideas and Inspiration for Reusing Vintage Textiles published by Schiffer Books. From Kerr's rich family background of needlewomen comes a real enthusiasm for redefining treasures such as kitchen linens, dresser scarves, embroidery, handkerchiefs, doilies and more.
If you have pieces of family needlework or if you're a treasure hunter who can sniff them out at garage sales and flea markets, this title presents interesting ideas on how to use them in quilted projects. Move them out of trunks and attics to where they can be enjoyed—let this book show you how.
*     *     *     *    *
Time for a giveaway! Leave a comment below by midnight Monday, February 27 and we'll pick one random winner for each item above. The winners have been chosen and notified by email. Congratulations to Dee, Sue and Joan and thanks to everyone who left a comment!