As I thought about creating my block for 100 Blocks Volume 4, I wanted one that would play well in a variety of settings. I was looking at asymmetrical options and realized that I could divide the 12″ block into progressively smaller segments of 4-1/2″, 3-1/2″, 2-1/2″ and 1-1/2″:
I decided to put Pinwheels in the diagonal spaces and knew this could help create some dimensional effects as the Pinwheels progressively change sizes:
I found a big dot fabric from Robert Kaufman's Flower Shop line that I wanted to use in the large rectangles and that set my color direction: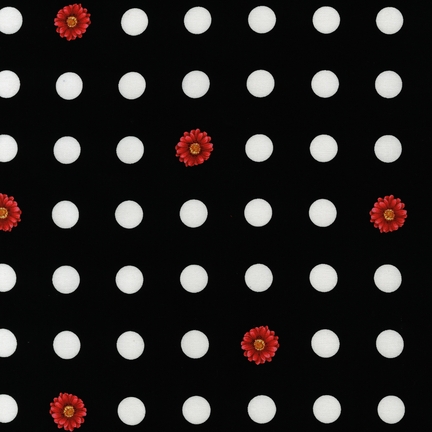 Using red and white Pinwheels and a red and white print from Flower Shop, this was my first block:
I liked the big dots in the large spaces and the small dots in the spaces . But the red and white flower print wasn't working at this point because it obscured the Pinwheels near it–not enough contrast. So I took the red and white print out and started auditioning other fabrics into those spaces on the design wall. I tried the yellow and white print:
There was enough contrast now with the Pinwheels, but it was too much yellow for me. I tried several black and white prints:
None of these were quite working for me yet, so I tried some prints with red in them:
Still not right, there was too much red again obscuring the Pinwheels. Next I tried a stripe:
Now that had possibilities. There was red, white and black, but not so much that any one color was overpowering. At this point I had just been laying the Pinwheels and other fabrics on top of the fabric I was auditioning. Now I just had to decide which direction I wanted the stripes to run and the block was finished:
And that's the auditioning journey my block Pinwheel Pizzazz took me on. Now for a few setting ideas:
And that's just the tip of the iceberg of setting possibilities as you rearrange blocks.
Giveaway: Leave a comment (be sure to include some words with the letter "z") by 12 noon MST on Tuesday 11/8 for a chance to win a copy of 100 Blocks Volume 4.
Winner: Your anzwers have made me zilly! Sandra Visser #40 was the randomly selected winner. Plus I loved the poem from Amanda #177, so she gets a magazine too. Thankz for playing everyone!